6" Straight Bully Sticks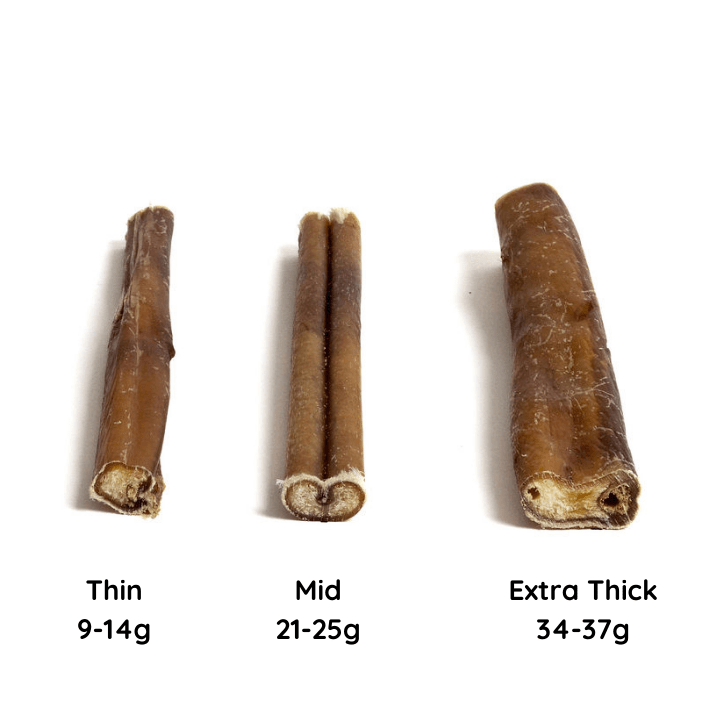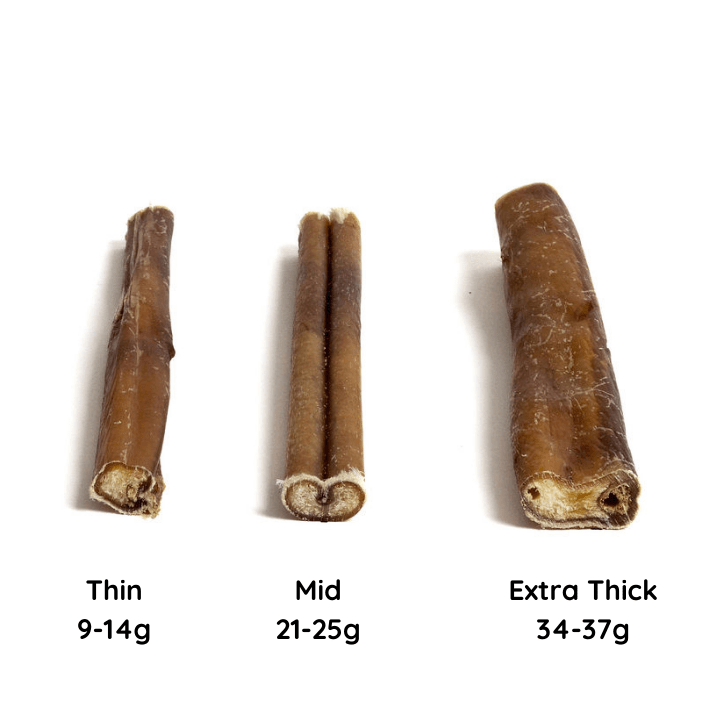 6″ Straight Bully Sticks
***Our Medium Odor 6″ Straight Bully Sticks should be re-stocked by October 9th.***
The most popular bully stick, our best-sellers.
Consistent thickness – each stick is weighed (in grams) and sorted into the appropriate range
Truly very low odor (or if not it will be clearly listed)
100% all-natural with no chemicals and sourced from grass-fed, free-ranging South or North American cattle raised without the use of hormones or antibiotics
Appealing in appearance – sticks that are strongly blemished, fatty, discolored, flat, misshapen, or cut are sorted out
Packaged in clear plastic zip bags of 50-200 sticks.  Price listed is per stick.
6″ Straight Bully SticksSold in multiples of 50 sticks
| Click for Detail | Length | Shape | Thickness | Weight | Odor Level | 50 | 100-200 | 250-450 | 500-950 | 1000+ | Stock | Add to Cart |
| --- | --- | --- | --- | --- | --- | --- | --- | --- | --- | --- | --- | --- |
| | 6" | Straight | Thin | 09-14g | Very Low | 1.11 | 1.08 | 1.04 | 1.00 | 0.97 | 50 | |
| | 6" | Straight | Thin/Mid | 15-20g | Very Low | 1.63 | 1.58 | 1.52 | 1.46 | 1.42 | 300 | |
| | 6" | Straight | Mid | 21-27g | Very Low | 2.10 | 2.04 | 1.95 | 1.89 | 1.83 | 1000+ | |
| | 6" | Straight | Thick | 28-37g | Very Low | 2.83 | 2.75 | 2.63 | 2.54 | 2.46 | 1000+ | |
| | 6" | Straight | Jumbo | 38-47g | Very Low | 3.77 | 3.66 | 3.51 | 3.39 | 3.28 | 250 | |
| | 6" | Straight | Extra Thin | 04-08g | Medium | 0.37 | 0.36 | 0.34 | 0.33 | 0.32 | 0 | |
| | 6" | Straight | Thin | 09-17g | Medium | 0.88 | 0.85 | 0.81 | 0.79 | 0.76 | 0 | |
| | 6" | Straight | Mid | 18-27g | Medium | 1.31 | 1.27 | 1.22 | 1.18 | 1.14 | 0 | |
| | 6" | Straight | Thick | 28-37g | Medium | 1.90 | 1.84 | 1.76 | 1.70 | 1.64 | 950 | |
| | 6" | Straight-Slighty Sticky | Thick | 28-37g | Low-Medium | 1.71 | 1.67 | 1.62 | 1.57 | 1.52 | 0 | |
| | 6" | Straight | Jumbo | 38-47g | Medium | 2.48 | 2.41 | 2.30 | 2.22 | 2.18 | 300 | |
| | 6" | Straight-Slighty Sticky | Jumbo | 38-47g | Low-Medium | 2.24 | 2.18 | 2.12 | 2.05 | 1.99 | 150 | |
| | 6" | Straight | Extra Jumbo | 48+g | Medium | 3.15 | 3.06 | 2.93 | 2.83 | 2.73 | 0 | |