Why should you choose our bully sticks?
Consistent thickness
All of our bully stick thickness options are defined by the weight of each bully stick and we weigh every single bully stick to determine what thickness group each bully stick will be a part of.  This takes out the ambiguity and ensures that every single order you make will come with bully sticks of the thickness you are expecting.
Truly low odor
Let's be honest, there's really no such thing as odor free bully sticks but our sticks are as odor free as they come, every single time.
We achieve this by working with trusted producers who get fresh raw material, properly clean and trim their raw material, and cook the bully sticks for the right amount of time at the right temperature.
We do sometimes have bully sticks that don't meet our typical odor standards and these will be clearly marked on the site as such and at a discounted price.
What our producers don't do to manipulate odor is include any questionable chemicals or substances such as metabisuflite, chlorine, hypochlorite, or Biosure.
100% all-natural with no chemicals
Our bully sticks are sourced from grass-fed, free-ranging South and North American cattle that are raised without the use of hormones or antibiotics.
No chlorine, no hypochlorite, no metabisulfite, no Biosure in our bully sticks.
Many bully stick producers (near half of the numerous suppliers I (Ryan) have talked with) use a solution of water mixed with one of these ingredients to soak the raw bully sticks in.
Typically this is used if their raw material is not especially fresh and these substances are used to help limit odor and/or produce a desired color.
We have not tested most of these bully sticks so in some cases possibly the substance is not all that bad / or leaves an immaterial trace, but we did recently have bully sticks from a well-established bully stick producer that uses a small amount of metabisulfite lab-tested to determine if this really mattered or not. The lab test showed that these bully sticks had a sulfite level that was more than 6x the recommended level in most developed countries and which was more than 100x greater than the control sample (a bully stick produced without metabisulfite).
How long does it take to get my order?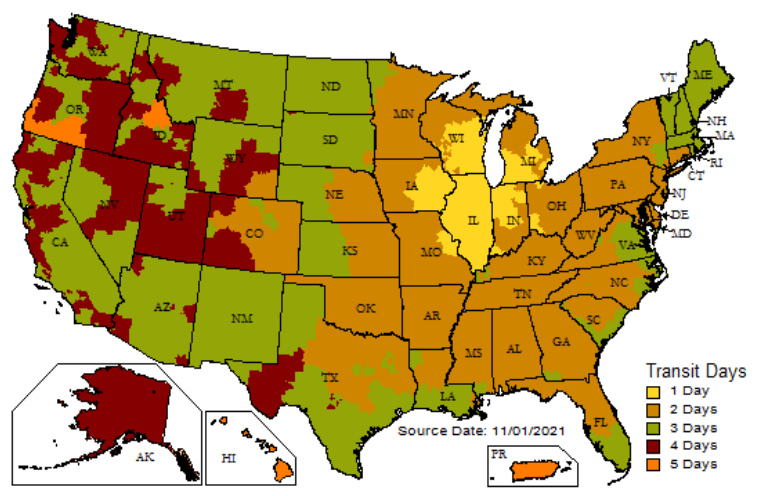 2-6 business days (from the time you order to when your order is delivered to you).
Your order will ship within 2 business days from Chicago via UPS Ground.  And then to determine how long your shipment will take to get to you once shipped. 
When your order ships you will receive a shipping notification email with tracking information.
The map to the right displays transit times.
Do you ship outside of the United States?
We currently do not ship wholesale outside of the United States.
If you are open to ordering a smaller quantity of product, please consider our direct-to-consumer website, where we do ship internationally today.
If you would like to discuss further, especially if you have experience importing similar products or are willing to take the lead on the import/export and logistics, please feel free to email me (Ryan) at wholesale@bullybundles.com.  We have looked into shipping larger quantities internationally on multiple occasions in the past and have found the customs process (both the importing and exporting) to be very involved, but if we could do this without great difficulty we would love to do so.
Do you offer packaging for retail?
Yes, we do! Here are some of the packaging options we have (and if you have another idea, we would love to help if we can):
Bully Bundles branded labels and packaging
Packaged bundles
Individual 6" sticks packaged
Images
Individual stick labels
Private label packaging
Packaged bundles with your brand's label
Or send us your branded packaging to package with
Blank packaging
Kraft bags
Clear plastic zip bags
If you have any other ideas, please feel free to mention them. We'd love to try and make it work and there's a good chance we might have even already done something similar before.
There is a small charge for packaging that will depend on the packaging you'd like.
Please email me (Ryan) at wholesale@bullybundles.com to discuss!
Do you offer other dog chews other than bully sticks?
We will be soon! We are in the process of reviewing a variety of bones, cow ears, and esophagus sticks / pieces, among other natural dog chews, here is a list of these:
White bone
Natural bone
Femur bone
Knuckle bone
Bovine knee
Cow ear
Esophagus (gullet) flat pieces
Esophagus (gullet) sticks
Aorta sticks
Beef cheek rolls
Collagen sticks
If you're interested in one of these products or another not listed, please let me (Ryan) know, we'd love to help.
You can email me (Ryan) at wholesale@bullybundles.com.
Is it possible to get a larger discount?
Do you offer discounts for customers buying more than 1,000 units of a product?
Do you sell by KG / LB or only by stick / piece?
Yes, we would be glad to sell to you by the KG or LB, we can offer a discount to you for this (it saves us meaningful time/labor of counting sticks) and we currently have customers that order in this manner.
Please email me (Ryan) at wholesale@bullybundles.com to discuss!
What is the guaranteed analysis of your bully sticks?
Crude protein (min): 80%
Crude fat (min): 0.1%
Crude fiber (max): 2%
Moisture (max): 18%
I am a reseller or other tax exempt organization, how do I set up my account to not be charged sales tax?
Currently, only customers shipping to a location within Illinois (the state we are shipping from) will be charged sales tax at checkout.
If you are a reseller or tax exempt organization and are shipping to a location within Illinois, please email us at wholesale@bullybundles.com with your tax exempt certificate and we will turn off the sales tax for your account and can refund you for the sales tax you were charged for with recent orders.